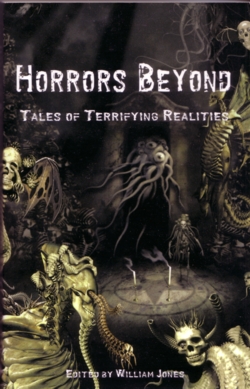 He was an outgrowth of the hill country west of Arkham; a hardscrabble Yankee, a dying remnant species bypassed by progress and impervious to evolution. While not nearly as degenerate as the folk of Dunwich or Innsmouth, they are a decaying, unchanging folk and indifferent to all modernity, scratching a precarious, semi-primitive existence out of the earth long after most others had left for the more fertile fields of the Midwest.
–Michael Minnis, "A Little Color on Your Cheeks"

Horrors Beyond is the first fiction anthology published by Elder Signs Press, the individuals responsible for the Book of Dark Wisdom periodical of Loveceraft-influenced fiction. It is 281 pages, available in hardcover or paperback, signed by several of the contributors, or not, at no extra cost. With the exception of Ann K, Schweider's "Experiencing the Other", all of the stories are previously unpublished.

Together again are several familiar Lovecraft pasticeurs; Ann K Schwader, Richard Lupoff, and CJ Henderson, although this isn't technically a volume of Lovecraft tributes. Or rather, if it is, many of the stories manage to break entirely away from the trappings of Lovecraft's work and concentrate entirely on his sense of cosmic otherness. Although at first Horrors Beyond seems like a tribute to Lovecraft's "From Beyond" dealing primarily with extrusions of other planes into this one, as the anthology progresses, the stories seem to move away from established Lovecraft tropes and towards a more generalized sense of events, and even worlds in which reality has gone terribly wrong.

The quality of anthology stories always varies, however, the upside is usually that even if one story is intolerable, it is over quickly enough that the injury is minimal. I am happy to say that there are no real insults in this collection; all of the stories are fairly solidly written, something fairly unusual for a small-press Lovecraft anthology. In fact, I was so encouraged by the quality of the stories I read here, I went out and purchased two other recent Mythos anthologies (reviews to follow), with mixed results.

Many of the stories deal with contemporary issues; "The Blind" deals with the alienation of the ghetto, as well as the existential quest to give meaning to one's life. That quest is seen from the outside in Ann K Schwader's "Experiencing the Other", tying the theme together very nicely from two radically different points of view; one urban, and other rural. "Vuuduu" by CJ Henderson deals with a supernatural version of the Napster and music piracy, firmly tying it to the modern era, and Richard Lupoff's off-beat "Dingbats" takes place in a future that is almost unimaginably distant.

While all of the stories are readable, three stories truly stand out as effective, interesting, and original. Brian Sammons provides us with a particularly interesting technological story "One Way Conversation", in which an inventor discovers a way to send messages back through time. Sammons effectively keeps the tension in the story high, leading the story through cryptic messages sent back from the future, always giving the reader hints as to what is coming, yet not giving out too much information. At the same time, he avoids the silliness and absurdity that are all too common in time travel tales, and for that alone, he deserves a great deal of credit.

Michael Minnis, I think, is emerging as an author of interest. His story is the most effective of the lot despite spending a page and a half recapitulating Lovecraft's "Colour out of Space". Because he does so boldly, and in his own words, the section of his story is interesting enough that those of us who know the story well aren't bored. After this, the story moves into wholly new territory, and it's a real pleasure to watch the author compellingly meshes the ideas from Lovecraft's original story with certain, well-known historical events.

Cody Goodfellow's"Chakoia" is also worth noting because with just a few brush strokes, the reader is transported to a strange and complex future that could easily have descended into chunks of Star Trek-like technobabble. Fortunately, Goodfellow effectively shows and tells us his ideas, and the story unfolds for the reader, rather than crushing them under indigestible blocks of exposition.

There are no real losers in this collection, which reflects very well on editor William Jones and on Elder Signs Press generally. If you are the sort who enjoys a well-written Lovecraft pastiche or tribute, then this anthology is worth picking up. I look forward to further collections from Elder Signs Press, and will be consistently checking their website for new releases.