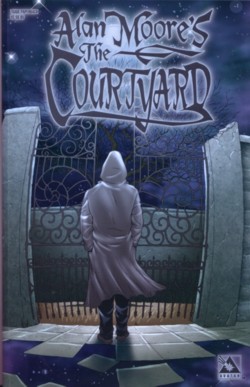 Alan Moore has been one of the most respected names in comics for nearly fifteen years, since his seminal Watchmen changed the way most people thought about superheroes, and even the medium itself. He is credited with bringing Neil Gaiman into comics, and bringing the energy of the 80's independent comics scene to a large publisher when he became the writer for the DC Comics title Swamp Thing. Moore continually impresses me with his deep knowledge of his subject matter, surprising storylines, and outrageous ideas. Moore has on occasion alluded to Lovecraft in various works, so when Avatar Press advertised a two-issue miniseries specifically referred to as "Lovecraftian" I knew I had to own it.

"The Courtyard" is, in Moore's own words, "an attempt at a Lovecraftian story without imitating Lovecraft's style." Set just slightly in the future, among Red Hook's still-decayed apartments and clubs, we first meet the narrator and protagonist in a scummy residential hotel, complaining about the ranting of his next-door neighbor. He could be viewed as a present-day version of Lovecraft's typical protagonists. Highly intelligent, though racist, he's an agent with the Federal Bureau of Investigation. Moore's writing shines for this character, making him unpleasant and yet intriguingly deep at the same time. He's not someone you'd like as a friend, but his thoughts are fascinating. "Is it just me who finds sirens beautiful? Miserable Wagnerian devas, threatening fire, plague, or murder."

The plot is fairly simple, originally from a story no longer than two pages. Our Agent's assignment is piecing together a string of similar murders committed by extremely different people. He has pieced together the possibility that they are related to a band, The Ulthar Cats, who are appearing at Club Zothique in Red Hook, who are also linked to a new street drug, called aklo. The Agent seeks out this drug, which leads him to delve into Things Man was not Meant to Know.

Although Moore falls into the Derlethian habit of dropping name helter skelter over story, this tendency doesn't actully disturb the flow of the narrative at all. Moore manages to make the name-dropping window-dressing, rather than the thrust of the story.

The art by Jacen Burrows is very clean and precise, exactly what is needed for this story. It helps the ground the story in reality, with real people surrounding the protagonist, the real objects, and the squalor of the location. His use of shading is quite striking and effective.

This December, a trade paperback of "The Courtyard" will be issued by Avatar press, as well as a seventy-two page Companion that will look at the original script and analyze the Lovecraftian roots of the story. Apparently, Lovecraftian scholar N.G. Christakos (has anyone heard of this individual?) is going to nail down the more than a hundred Lovecraftian references in the story. It will also include the original text version of the story, and I'm sure a few other pieces of trivia. Alan Moore's work almost always bears closer inspection to lay its complexities and obscurities bare.

Also being issued is a hardcover compilation of both the miniseries and the Companion together. Ah, how well they know that we Lovecraftians love a good limited edition book.