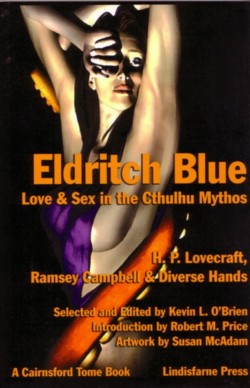 You'd think that after the abysmal disappointment of Starry Wisdom, I'd never buy a "sex and Cthulhu" anthology again. Well, color me wrong; I picked up an anthology called Eldritch Blue from Lindisfarne Press. Lindisfarne is a print on demand press created and run by Kevin O'Brien. Inspired by Chaosium's series of themed Lovecraft pastiches, O'Brien has created his own series that does much the same thing, down to providing us with the equivalent fo Robert Price's analytical essays, and a black-and white drawing to accompany each story. This being a sex and Cthulhu anthology, many of these illustrations feature naked women. On the whole, these neither add to nor detract from the story. They are simply there.

All told, it's not a horrible anthology, but then, many of my fellow Acolytes were less favorably impressed with such collections as Children of Cthulhu and Shadows over Baker Street than I was. I would rank this below them, approximately on the same level as the majority of the Chaosium anthologies. Some of the work is good, but much of it is amateurish; some of it new, and some I already own. Interestingly, Peter Worthy's story utilizes the Delta Green intellectual property, but the book's indica does not acknowledge the Delta Green Partnership that owns the intellectual property. As of this writing, this is being discussed on alt.horror.cthulhu.

Ultimately, the failing of this anthology is the writing of the editor. While I respect anyone who can set up their own publishing house, Kevin O'Brien simply does not have the vision or the insight to write the analytical essays he attempts at the end of each story. Certainly his own story, "The Surrogate" shows a lack of understanding as to what Lovecraft was trying to accomplish, and what readers of Lovecraft are interested in. He speaks, when analyzing his own work, of Lovecraft's nihilistic vision of the universe, in which humans cannot comprehend the universe. He posits an existentialist view, in which one's actions can ultimately make a difference. This, of course, takes him far afield from the concepts and ideas Lovecraft presents us with. If the universe is not a horribly incomprehensible place, then the stories lose their impact. The Great Old Ones become Lumleyesque creatures that we can comprehend, and eventually bargain with. Only a little further along this path come such indignities such as seducing their daughters and turning them against their fathers, as Brian Lumley inflicted on Ithaqua in Spawn of the Winds. Not understanding this, O'Brien's story is one in which nothing happens. The protagonist meets the Spawn of the Old Ones, and is pretty OK with that. O'Brien's story holds no fear, no terror, no glimpses of fantastical visions from beyond, and ultimately, very little interest.

Fortunately, the majority of the anthology does not follow or in any way interact with the editor's philosophy. Eldritch Blue is only another anthology on a long line of anthologies for those of us who still can't get enough of pastiches. Some of the stories are familiar (Ramsay Campbell's "The Face at Pine Dunes", Ann Schwader's "Mail-Order Bride"), there are new stories by familiar authors (Stephen Mark Rainey, Stan Sargent, C. J. Henderson, Walter C. DeBill Jr. James Ambuhel, among others) and some wholly new faces. If you are one of those people who just loves to read "Mythos" anthologies, then this collection isn't a bad buy, but still has the disadvantage of being a trade paperback priced at $21. I hope that O'Brien's sensitivity and literary perceptions are sharpened as he continues his publishing endeavors, since he plans on bringing out at least four more anthologies in this same series.